Skip to content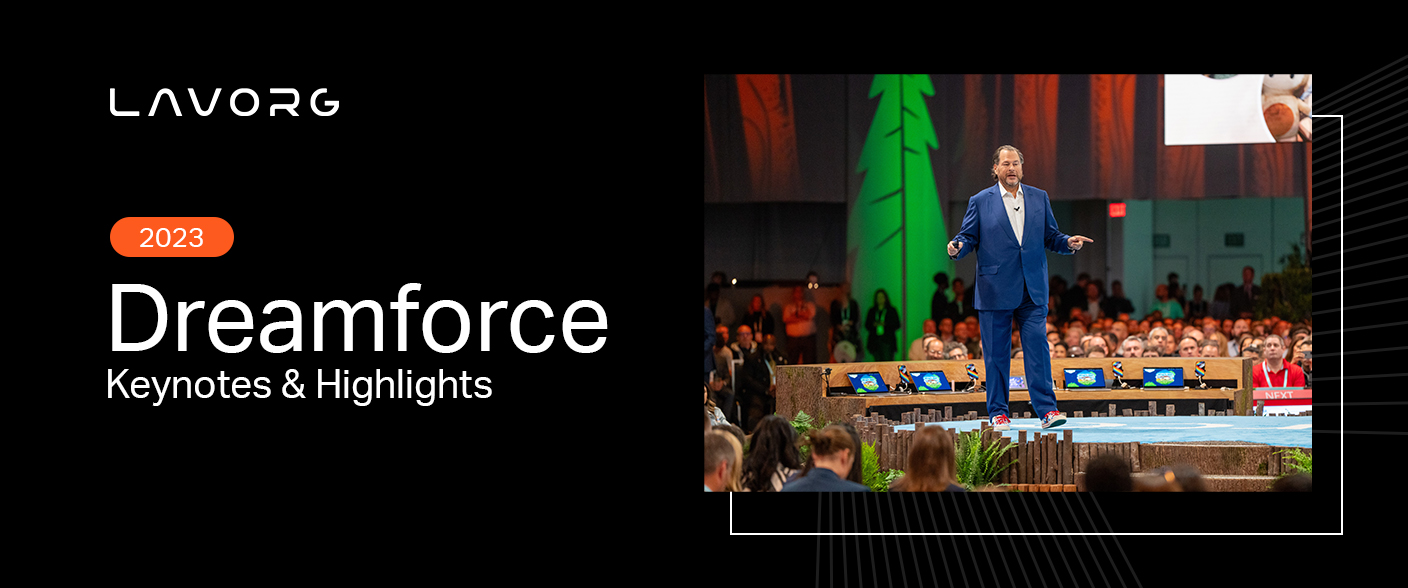 If you haven't been living under a rock, then you must be aware of the world's largest AI event Dreamforce 2023, that took place this week, from September 12th to 14th. This grandeur of a tech spectacle was filled with a staggering 1500+ sessions, 40,000 in-person attendees, and millions tuning in online, slashing records of every other tech event that happened. Apart from being a global extravaganza, this year's event boasts awe-inspiring statistics, cementing its place as the largest AI gathering globally. 
This year's keynote was hosted by none other than Salesforce's Founder, Chairman, and CEO, Marc Benioff, who crafted the theme for the event as "Now everyone is an Einstein – Data + AI + CRM + Trust". A big bold statement, backed by even more audacious numbers. Every month, Salesforce Flow orchestrates a mind-boggling 1.2 trillion tasks, while Data Cloud harmonizes an astonishing 2 trillion records. Einstein, Salesforce's AI powerhouse, processes over 1 trillion transactions every week. Now without further ado, let's dive right into the highlights of the event. 
Einstein 1
This trusted AI hub reimagines Salesforce in a new manner that's fully powered via Artificial Intelligence. At its core is Einstein Copilot, an integrated side panel that feels like second nature to users. Copilot enables users to interact naturally in conversational language, making it accessible for both internal users and customers via Experience Cloud portals. It doesn't stop here, its ability to provide multi-step action plans as recommendations. Users can select or deselect follow-up actions, enhancing productivity.
Copilot Studio
Salesforce pros can leverage Einstein Copilot Studio to develop generative AI while preserving control. It enables the use of powerful generative AI to boost user productivity while retaining control over its deployment. Comprising Prompt Builder, Skills Builder, and Model Builder, it's a trio of tools designed for precision.
Prompt Builder:

Craft, test, and deploy generative AI prompts effortlessly.

Skills Builder:

Grant generative AI capabilities selectively.

Model Builder:

Choose the AI models that suit your needs, from Salesforce's proprietary models to partner offerings.
Free Data Cloud & Tableau Licenses
Salesforce has announced complimentary Data Cloud and Tableau licenses for customers on Sales and Service Cloud, Enterprise, or Unlimited edition. This enticing offer openly discloses the power of these previously hidden Salesforce products, providing two Tableau Creator licenses and Data Cloud licenses for up to 10,000 profiles.
More Core- Commerce & Marketing Cloud
The power of the cloud is now a fusion of possibilities with SF's More Core. These two acquisitions have been pretty prominent & momentous ones to be converged into the core platform. With 26 generative AI capabilities now in the pipeline and another 25+ projected by the end of 2024, these Data Cloud-based solutions are poised to transform marketing and commerce.
Hire The Best Software Development Company
Data Cloud-Triggered Flow
If you want to talk about the finest and latest beauty in the Automation industry, it's got to be this one. With Data Cloud integrated into the Einstein 1 platform, automation enabled by real-time and diverse information from numerous sources becomes a reality. Flows can be triggered based on conditions within Data Cloud data model objects (DMO) or calculated insight objects (CIO), enhancing automation capabilities.
Slack Innovations
Salesforce introduces Slack AI with features like Channel Recaps, Thread Summaries, Search Answers, and automation. Slack lists offer improved organization.
Data Graphs
Data Graphs within Data Cloud allow developers to visualize relationships between data model objects (DMOs), ensuring access to the right data for AI applications. When responding to prompts, this feature guarantees that Einstein gets access to the correct data points.
Tenets of Trusted, Ethical & Humane AI
Salesforce continues to be committed to its core values, which include trust, integrity, and humanistic AI. Salesforce's innovations are guided by the Trusted, Ethical, and Humane AI Tenets, which reinforce trust in their customer interactions.
Sustainable At Dreamforce
Sustainability is one of Salesforce's core values. This dedication is reflected in Dreamforce 2023, with Salesforce aiming to make it the most ecologically friendly Dreamforce to date.
New Industry Cloud: Life Sciences Cloud
With the introduction of the Life Sciences Cloud, Salesforce is expanding its Industry Cloud capabilities. This cloud is intended to help enterprises in the life sciences sector by providing a specific architecture for speedier integration with the Salesforce platform.
Conclusion
In summary, Dreamforce 2023 is off to a rousing start, with an emphasis on AI, Data Cloud, and the disruptive influence they will have on sectors. The event promises more big announcements throughout the week. From custom software development services to new-age AI, tonnes of tech is coming to sweep you of your feet. Stay tuned for more technological breakthroughs!
Unlock Your Vision with Our Custom Software Solutions! Let's Build Your Future Together.